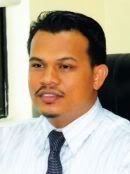 Abdul Ariffahmi, the Chief Executive Officer of Kelantan Menteri Besar Incorporated has been directed to resign by Kelantan Menteri Besar, Tuan Guru Nik Abdul Aziz Nik Mat. Abdul Ariffahmi who is also the son in law to Nik Abdul Aziz, accepted the decision with an open heart and would tender his resignation after updating his annual leave record.
Nik Aziz made the decision after a delegation from Pas headquarters, led by party president Datuk Seri Abdul Hadi Awang, conveyed the party's stand that it was against appointing family members in state-owned organisations.
Ariffahmi has been the object of controversy after the Malaysian Anti-Corruption Agency (MACC) started investigating him two weeks ago for alleged misappropriation of funds. His promotion to the post of PMBK CEO had also been questioned although Nik Aziz maintained that Ariffahmi got the job on merit.
"The decision (to resign) is to keep the good name of the state government, Pas and the Islamic leadership. I am confident I am not guilty"