The Mca's Leadership Crisis enters a new phase with tenser atmosphere. Most political observer sees MCA as family who are at war. The political reform by MCA's President takes its toll on nine MCA leaders which align themselves with the Vice President Liow Tiong Lai. With the removal of his ally on Presidential Council, Liow influence on the Council diminished.
According to the party's constitution, president can terminate an appointment if and when he thinks fit.
Datuk Dr Wee Ka Siong, MCA's Youth Chief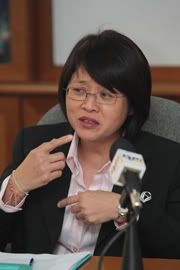 Datin Paduka Chew Mei Fun, Wanita Head of MCA
Among the nine member that been removed are Youth Chief, Dr Wee Ka Siong and Wanita Head, Chew Mei Fun. Others include Wee Jeck Seng, Dr Hou Kok, Chung, Lee Wei Kiat, Wong Nai Chee and Gan Hong Su. Later, Ong replaced the nine with a member who are loyal to him and the Deputy President, Chua Soi Lek. They are Tan Chai Ho, Tan Cheng Liang, Lee Chee Leong, Ti Lian Ker, Dr Mah Hang Soon and Senator Heng.
The Presidential Council is the most powerful body in MCA, responsible for the party's administrativeaffairs and its members consist of president, deputy president, one or more vice-presidents, secretary-general, treasurer general, national organising secretary and no more than 10 members appointed by the president. After the shuffling of the members, Liow and his allies claiming Ong are engaging 'Politics of Slash and Burn', especially when dealing with dissent in the party.
Other than the Presidential Council, the Central Committee also rejects 28 November EGM.
"Today's MCA CC meeting made our heart bleed, we are very sad. The MCA is a family at war now, MCA is engaging in the politics of slash and burn, the president disowned the Youth and also the Wanita in the presidential council, this is a serious matter."
"This can be seen as the last straw, the president elected his own people and eliminated those who disagreed with him so he can have absolute power in the presidential council"
In the mean time, the Party's President defended his move and said the reshuffle was done in line with the party's constitution and that the new line-up could run the party's programmesmore effectively.
"The changes were done according to current needs and a reshuffle takes place as and when it is necessary,"
With a new by-election on the horizon, what would the fate of MCA? Can it still retain the support of the People? What fate shall befall the 60 years old party?